New SystemC Tutorial Available
SystemC: Focusing on High-Level Synthesis and Functional Coverage for SystemC

Consisting of five parts, this latest SystemC tutorial was presented at DVCon U.S. 2019 by members of the SystemC Working Groups.
High-Level Synthesis with SystemC: An Introduction — This section describes the fundamental structures of a SystemC design model and what is abstracted in a SystemC model that is explicit in an RTL model. It shows how HLS tools are used to concretize the abstraction into the desired structures in the RTL model, productivity benefits, and the remaining challenges in typical HLS flows.
High-Level Synthesis: Model Structure and Data Types — 

This section covers SystemC model structure and data types for synthesis and how they differ in important ways from models used for virtual platform development and other purposes. Differences include restrictions in the C++ and SystemC constructs that can be used and a much greater use of SystemC bit-accurate datatypes and fixed-point datatypes.

High-Level Synthesis: Lessons Learned - Intel's Experience — This section presents

lessons learned in a wide-scale deployment, including techniques for triaging HLS errors, how HLS fits in power flows, and techniques repurposed from the software engineering world to make code easier to maintain over multiple generations.

Functional Coverage for SystemC (FC4SC) — This section

provides an introduction into the capabilities of Functional Coverage for SystemC (FC4SC), a header-only library that provides mechanisms for functional coverage definition, collection and reporting that can be used in any application which is compliant with the C++ standard.

Accellera SystemC Working Group Update —

A brief update on recent and upcoming working group activities.
The Value of Membership
Lu Dai discusses the value of Accellera membership during an interview with EDACafé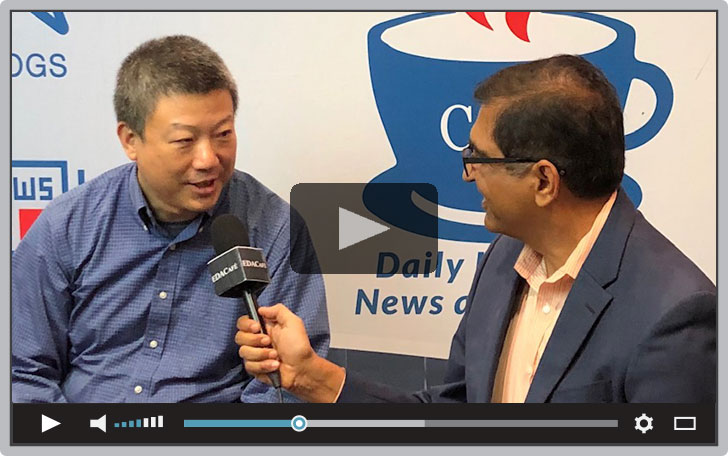 In a recent interview with Sanjay Gangal, president of IBSystems, Accellera Chair Lu Dai explains the value of Accellera membership for both user and vendor companies. During the interview at the 56th Design Automation Conference in Las Vegas, Lu describes how standards are initiated within the organization, as well as how companies can get involved and contribute to drive new standards development. He also discusses Accellera's latest standards effort, the IP Security Assurance Working Group, as well as the UVM-AMS Proposed Working Group gauging industry interest in moving forward with developing a new standard.
Featured Events
DVCon India

September 25-26, 2019
Radisson Blu Bengaluru
Bengaluru, India
dvcon-india.org
Early Bird Registration Open >
DVCon Europe

October 29-30, 2019
Holiday Inn Munich City Centre
Munich, Germany
dvcon-europe.org
Register Now for Advance Rate >
SystemC Evolution Day
Colocated with DVCon Europe 2019
October 31, 2019
Holiday Inn Munich City Centre
Munich, Germany
Subscribe to our mailing list: