Events
To support, promote and advance system-level design, modeling and verification standards for use by the worldwide electronics industry, Accellera hosts and supports numerous events throughout the year.
DVCon Japan 2023
June 22, 2023
Kawasaki City Industrial Promotion Hall
Kawasaki, Kanagawa, Japan
dvcon-jpn.org
DVCon Taiwan 2023
September 7, 2023
The Ho Hotel
Hsinchu, Taiwan
dvcontaiwan.org
DVCon India 2023
September 13-14, 2023
Bangalore, India
dvcon-india.org
DVCon China 2023
September 20, 2023
Renaissance Pudong Hotel
Shanghai, China
dvcon-china.org
DVCon Europe 2023
10-Year Anniversary
November 14-15, 2023
Holiday Inn Munich - City Centre
Munich, Germany
dvcon-europe.org
SystemC Evolution Events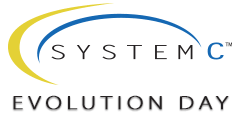 Each year Accellera holds one SystemC Evolution Day as well as periodic online workshops named SystemC Evolution Fikas. Find out more >
For more information about upcoming SystemC Evolution events and presentations from past events, please go to systemc.org.
Accellera Global Sponsors
Contact us if you are interested in becoming a Global Sponsor.

Presentations from Past Events
Presentations from many past events are available for download.